Metallica: Death Magnetic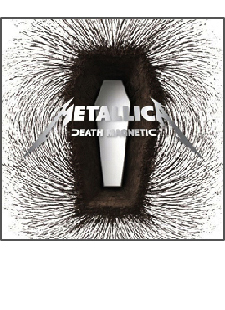 Death Magnetic. Label: Warner Bros. Records
Release Date: Sept. 12, 2008

Metallica's back! Thanks to Rick Rubin, who is known for his gifts as a producer that can reconnect a group or artist with their classic sound. The band's previous effort 2003's "St. Anger" was an attempt to recapture that sound but because of the inner turmoil within the band (captured on the DVD "Some Kind of Monster"), they missed their mark.
With "Death Magnetic", Kirk Hammet and James Hetfield have returned to what they do best, the crunching dual staccato guitar attack. The ever-present lightening quick double bass drums of Lars Ulrich help move things along at a break neck speed.

This is Metallica's ninth studio release and first with a new Producer since Bob Rock came on board back in 1991, and the fresh blood behind the board has thankfully brought back some of the aggression that made "Kill Em All"and "Ride The Lightening"so invigorating.
Death Magnetic comes in with a total of 10 tracks each of which clock in at over five minutes. "The Day That Never Comes" starts out as a ballad morphing into traditional thrash by its conclusion. And the "Unforgiven III", seems like an unnecessary addition to an already drawn out saga. But, these are only minor complaints about a very solid CD from the once again reigning champs of metal.