Pretenders: Break Up The Concrete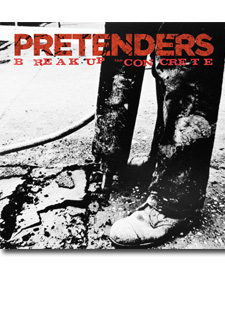 Break Up the Concrete
Label: Shangri-La Music
Release Date: October 7, 2008
Break Up the Concrete is the first studio album in six years for Chryssie Hynde and co. and their ninth studio album overall. It also happens to be their most solid effort in quite awhile.
The CD wastes no time starting off with the rockabilly jumper, Boots Of Chinese Plastic. Fans starving for a return to form of their first few albums won't be disappointed with songs like Don't Cut Your Hair and the title track which includes the often used, but never tired rock and roll beat made famous by the recently departed legend Bo Diddley.
Session man supreme Jim Keltner is on drums replacing the only other living original band member Martin Chambers (whom Hynde has toured with in recent years). Also on hand to give the album a very country-rock feel is pedal steel guitar player Eric Heywood, who has contributed to albums by Son Volt and Alejandro Escovedo. James Walbourne takes lead guitar duties and Nick Wilkinson is on drums to round out this particular incarnation of The Pretenders.
What's also impressive is that in this world of overwrought and overproduced music flooding the market, this entire album was recorded over the span of only 13 days. But this album sounds anything but hurried. What it does sound like is one of rocks most formidable leading lady's adding yet another impressive chapter to an already storied, rock and roll hall of fame career.