Scott Weiland: Happy in Galoshes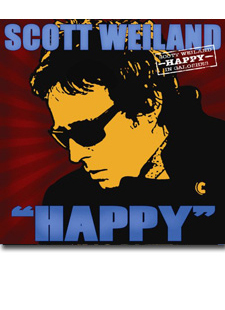 &g
by Bones Butler
"Happy In Galoshes" 2 CD Deluxe Edition
Label: Softdrive / New West
With his latest effort, Scott Weiland has pretty much exactly picked up where he left off with his first solo release from ten years ago, 12 Bar Blues.
Just as on 12 Bar, Happy In Galoshes is greatly inspired by the glam rock movement of the early 1970's, but with modern day twists. Scott dabbled in the genre with his previous groups, STP and Velvet Revolver, but was never able or allowed to expand on it like he has with his solo recordings. His love of glam is no more evident than with a respectable cover of David Bowie's "Fame".
Scott has never been afraid to challenge the listener by jumping from style to style on the same album, many times from song to song. This CD is no different. He jumps from glam like on the opener "Missing Cleveland", to psychedelia on "She Sold Her System", to lounge on "Killing Me Sweetly".
One of the high points is the up tempo "Blind Confusion", where he really gets it right by crafting a superb pop song with a slight edge to it.
Scott is joined on the album by members of No Doubt who helped write the song "Paralysis". The CD was also issued as a 2 disc deluxe edition with another 10 songs, one being a faithful rendition of The Smiths classic "Reel Around The Fountain".
It's probably not the CD the hardcore fans of Stone Temple Pilots or Velvet Revolver wanted him to make, but that does not mean Weiland has not created if anything a very interesting sonic tapestry of songs that should be explored.