Backstage Access: Unlocking The Truth
Videos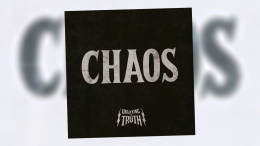 Check out our Terms of Usage
Heavy metal trio Unlocking The Truth debuts their new album, Chaos
By The LifeMinute Team
July 12, 2016
Brooklyn-based metal trio Unlocking The Truth's band members are barely teenagers, but they've already enjoyed success way beyond their years.
"I see us doing this forever, because we want to become one of the world's best heavy metal bands," says one of the founding members of the immensely popular trio.
On How They Met
"If you don't know the name you're missing out! We are a band from Brooklyn, New York called Unlocking The Truth. We started playing in Times Square in 2012, 2013 and that's how we got discovered and we became this big thing," says lead vocals and guitar player Malcolm Brickhouse.
Unleashing Chaos
"The name of our album that just came out is Chaos. It was a collaboration of songs that Malcolm and Jerry wrote when they were younger." says Alec Atkins, bass.
Producer, Johnny K. helped to bring the songs new life. "He just helped rejuvenate these songs that they had stored in the past," says Atkins.
On Their Sound
The band members know, even at this young age that the only thing you can count on is change. "Our sound will change many times," says Atkins. Agrees Brickhouse: "It's going through puberty, just like us!"
Expanding Musical Horizons
"We took a road trip to Tennessee to listen to country music," says drummer Jarad Dawkins.

"You've got to listen to everything. There is good quality music everywhere. You just have to look for it. A good musician won't listen to just one thing," adds Atkins.
What's In A Name?
"At first we didn't have a meaning to the name. But then we created one and that's like just to be yourself. Don't listen to what other people want you to do, don't conform to what society wants. Always think for yourself. Think outside the box. And Unlocking The Truth just means
to go with the truth of everything," says Atkins.
For more information go to unlockingthetruthband.com.