The Songwriters Hall of Fame Celebrated Its 47th Best of Songwriting Legends Awards
Videos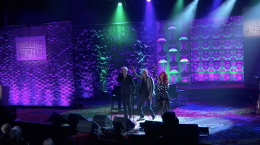 Check out our Terms of Usage
Music legends including Elvis Costello, Marvin Gaye, Tom Petty, Nile Rodgers and Lionel Ritchie were honored at the 47th annual Best of Songwriting Legends Awards in New York City
By The LifeMinute Team
June 16, 2016
The Songwriters Hall of Fame celebrated the Best of Songwriting Legends at its 47th annual awards dinner on June 10, 2016. Inductees included Elvis Costello, Marvin Gaye, Tom Petty, Nile Rodgers & Bernard Edwards and Chip Taylor.
Many well-known artists had complementary things to say about one of the inductees, Nile Rodgers, who is known for his collaborations with artists such as Diana Ross, David Bowie and Keith Urban.
"Several songwriters have been inducted including Nile Rodgers who we worked with," said
Fred Schneider of The B-52s.
"People want to be recognized for their songwriting because it's not just about performing, it's very important for artists to be recognized for that," said
Kate Pierson, also of The B-52s.
"There's a special place in my heart for Nile because of course he wrote 'We Are Family,'"
said Debbie Sledge, Sister Sledge
Rodgers spoke of his love for creating the songs that accompany people during life's big moments whether he is recognized for it or not:
"As a songwriter you mostly live your life anonymously. And I've been doing it from my bedroom and putting out songs and people dance to them and get married to them and make babies to them and they don't know I did it," he said.
"Hello" songwriter Lionel Ritchie was thrilled by the list of names he joined upon being inducted into the Hall of Fame.
"I'm honored. When I think of Frank Mancini and Johnny Mercer and Sammy Cahn, when I think of all of those greats, and now I'm joining that little list. I feel good," he said.
Nick Jonas, who received the Hal David Starlight Award honoring young songwriters who are making a significant impact on the music industry with their original songs, expressed his excitement at being involved in the ceremony.
"I'm among some icons, some legends, people I really respect, and I'm just thrilled," he said.
Legend Elvis Costello was inducted into the Hall of Fame by Marcus Mumford, who called Costello his "hero."
"To be acknowledged in the company of the people who are being acknowledged tonight and look at the people whose names are on the letterhead you've got to take it as graciously as you may," said Costello.

Songwriter Chip Taylor who penned "Wild Thing" and "Angel Of The Morning" said, "I just did it for the music and the passion of it, so this is like somebody giving me something. It's very nice."
"To see Chip's work over the years, it's a very wonderful moment for us all," said the songwriter's brother, actor Jon Voigt.